My Thoughts on the Top 600 Albums of 1992 (Final Part)
This is the list of the Top 600 Albums of 1992 (formerly known as the top 400 albums). I changed the name when I saw that I actually went beyond 400 and into the top 600 (Although I haven't reviewed every single one.

Also you may have noticed this list was put up super late (or that I had a regular upload schedule) that is because the computer I was working on had it's power supply die. So I had to wait a month to get that new PSU then I had to remember that I was doing this list and I had a release scheduled out but I ended up just doing the rest of the list, so this is like 35 or so albums.

As always if you need to see the previous 4 parts here they are (Part1 | Part 2 | Part 3 | Part 4)
---
#71 Album of 1992
Brutal Truth – Extreme Conditions Demand Extreme Responses
Brutal Truth – Birth of Ignorance / Stench of Prophet
[No Digital Store Link For This One]
Grindcore. Now that's a thing. Personally a genre that is hit or miss for me. It's the midpoint between death metal and punk, groovy for a while then just blast beats and growls and such. Birth of Ignorance starts off the album and sounds kind of like a death metal version of Slayer before it descends into blast beats and growls. This is basically the majority of grindcore, they've got a cool riff and then after that they scream and just pound the drums. So to me the best grindcore songs are the ones with that cool riff, this album has some cool riffs but I feel like the album wears out its welcome sooner rather than later.
#77 Album of 1992
Ice Cube – The Predator
If you recal I noted not really having heard of NWA when I was young. Ice Cube was part of this group so that had no influence on my thoughts on his music and for the most part I never really listened to him except for a couple of singles off this album (Check Yo Self & It Was a Good Day).

I think the album is a lot more centered on violence and the beats are a lot "heavier" than the Dr. Dre album which was more funky. I'll probably catch some crap from (well no one really) for saying this but Ice Cube's cadence, the sample heavy music, sounds a lot like ICP to me (and looking into it further it seems that maybe early ICP did share some similarities with gangsta rap) and that's most of my impressions of this album. Ice Cube wants to do violent things to people. A handful of songs are good but the majority of the album wears thin pretty quickly, too many interludes / skits as well.
#78 Album of 1992
Burzum – Burzum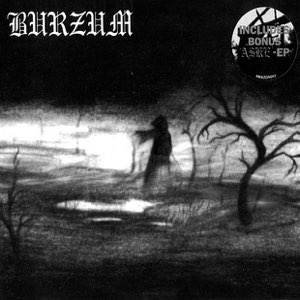 This is the album that started it all. I feel like a fair share of black metal albums have shown up on this list and I think this one is fairly different. Varg might be a despicable man but he can make some good tunes. The song War even features a guitar solo by Euronymous, the man that Varg went on to murder in 1993. The album starts a bit slow but once we get to the second song on the album I think the energy ramps up. While certainly not the best Burzum album it is pretty solid and I might even prefer it over some of the black metal albums higher up on the list.
#84 Album of 1992
Psychotic Waltz – Into the Everflow

Psychotic Waltz – Into the Everflow
As far as band names go, this is one of the better ones out there. I have heard a bit of their music (A Social Grace) and they are a local band from San Diego so that's cool. Into the Everflow happens to be their first album. Psychotic Waltz is considered progressive metal but this doesn't sound like your standard prog. The songs seem to continually rock out, not a huge amount of wankery or interludes which is pretty cool. The album concludes with a cover of Disturbing the Priest which is pretty nifty as well. I like it. Probably an underrated gem on this list (though it is still in the top 100 which is pretty good).
#92 Album of 1992
Skinny Puppy – Last Rights
I'm vaguely familiar with Skinny Puppy's work. In fact I have what is considered their best album, Too Dark Park. Last Rights is the follow up to that album and isn't anything like it. The first half sounds like regular Skinny Puppy, the second half sounds mostly like an experimental noise album. Distorted sounds, noise and samples galore. It's not a bad album but feels like one of those albums you have to be in the mood to hear, and even then it's gotta be some mood.
#103 Album of 1992
Godflesh – Pure
Another industrial band on this list is Godflesh. I heard them a while ago (Streetcleaner) when I heard they were influential for some of the bands I enjoy but I ended up not enjoying them because they didn't sound like the bands I enjoyed. In any case, I had never heard Pure and now that I know what to expect I can't be disappointed anymore. The album is has a very heavy tone it sounds kind of like early Fear Factory and has a really heavy groove to it. Much like the Skinny Puppy album this one ends with some industrial noise track, in the case of this album a 21 minute final song. But it's mostly a grindy noise so it's not too annoying. In any case I enjoyed the album probably more so than the Skinny Puppy album.
#119 Album of 1992
Helmet – Meantime
Helmet was the 1 hit wonder metal / rock band of the '90s. You would always hear Unsung on the radio but you'd never hear any other song from them on the radio. Upon listening to this album I quickly found out why. You ever hear the generic music in the background of a show or game? That's what these guys sound like. No attempt to have a distinct sound, just kinda forgettable noise. Luckily the album is short so you don't have have to put up with it for too long. I'm sure there are fans of this band out there somewhere but I am not one of them.
#125 Album of 1992
The Prodigy – Experience
Prodigy is a pretty great band and this is their first album. While a fine album I feel their more iconic stuff came later with their second and third album when Keith Flint joined. As far as this album it's like a non stop techno rave. You know that Shaq meme where he's being a DJ. I feel you could apply that meme to every one of these songs. And while it's not the best Prodigy album in my opinion it seems to be criminally low on this list, out of the top 100? I think we could stand to bump this up.
#127 Album of 1992
Peter Gabriel – Us
A lot of people only know Peter Gabriel for his hit radio songs like Sledgehammer, In Your Eyes and Steam (a song featured on this album) but past his pop song bangers he's very much a sound experimenter. This album features a lot of elaborate meditative and introspective tunes. This feels like another "in the mood" type of albums since the album evokes a certain type of mood and has a certain type of sound you really have to be in the mood to appreciate.
#141 Album of 1992
EPMD – Business Never Personal

EPMD – Business Never Personal
EPMD is one of those late '80s rap duos. Their first two albums considered classics for songs like You Gots to Chill and So Wat Cha Sayin' but could this duo transition to the '90s? I would say yes. It's pretty good, has some features from Redman and Das EFX who also released albums in '92 so this was like the cream of the crop for this year. Content of the songs is mostly what you'd expect, Erick Sermon and Parrish Smith flexing their bravado over some hard hitting urban beats, a lot of vocal samples as well. In any case, it's a fun album probably deserves to be bumped up the list some I'd say it's better than that Ice Cube album.
#142 Album of 1992
Joe Satriani – The Extremist
With the albums that preceded this one Joe Satriani already established himself as an amazing guitarist. You knew coming in that you could expect some great guitar playing on this album and that's what you get. I feel like that either the songs on this album are awesome or they are just ok, War and Summer Song probably being the standouts. However, I would say the awesome songs outweigh the ok ones so this is a pretty good album, kind of low on the list here I would say.
#150 Album of 1992
Eric B. & Rakim – Don't Sweat the Technique

Eric B. & Rakim – Don't Sweat the Technique
I mentioned a late '80s rap duo earlier, EPMD. Well, Eric B. & Rakim are in a similar situation. They began with two classics in the '80s and finished with two albums in the 90s, Don't Sweat the Technique being their final album before they split up. The beats are smooth and so are the raps. A lot of conscious songs for the time, anti war, education, etc. Same stuff you hear these days I would say. I loses some steam somewhere in the middle but finishes alright, the title track is good. As a final album I would say it's fine, at least it wasn't disappointing. They left their fans with a handful of good songs.
#156 Album of 1992
Stone Temple Pilots – Core
This is another one of those albums I had never actually heard the album, just only heard their songs on the radio. As it turns out every song you hear on the radio is on this album. In fact a lot of the songs on this album that you don't hear on the radio aren't that interesting. Luckily that is like 3 songs and 2 interludes, the rest is pretty great! I've never been a major fan of STP they were always fringe grunge but I think this one is probably too low on this list.
#162 Album of 1992
Roger Waters – Amused to Death

Roger Waters – Amused to Death
This is considered by some to be a brilliant album. I, unfortunately, find it to be a chore to listen to. To me good lyrics are a bonus that accompany good music. This album to me is not interesting musically. It sounds like the slow parts of Pink Floyd albums with Jeff Beck doing his best David Gilmour impersonation. Roger Waters really wanted to tell a story here and in that regard mission accomplished but he did so on the dullest way possible. Something that really grates on my nerves is listening to someone sound really old and on this album it just sounds like an old man spouting stream of consciousness lyrics. Overall not my cup of tea but if you enjoy sitting through 70+ minutes of this I won't judge you.
#167 Album of 1992
The Jesus and Mary Chain – Honey's Dead

The Jesus and Mary Chain – Honey's Dead
This band gives me Primal Scream vibes and maybe it's because both of the bands are Scottish and maybe it's because Bobby Gillespie was in the band for a hot minute. But I think Primal Scream is better. This album, however, just very lighthearted / happy alt rock. Nothing too exciting but nothing terrible either.
#195 Album of 1992
Eyehategod – In the Name of Suffering

Eyehategod – In the Name of the Suffering
Well this is the album that inspired me to go down this list. After a couple of more listens I kind of "get" the band but I still don't enjoy the music much. The music sounds kind of like what happens when I try to make music or play the guitar. I can strum a kind of discordant chord and keep going along, it doesn't sound good but these guys made songs into it, plus tons of feedback. As it stands the name of the band is still the best part of the band.
#227 Album of 1992
Das EFX – Dead Serious
Another New York rap duo to add to the list. Remember I said they were hot in '92 since they had a feature on that EPMD album? One of the two, Skoob, has got a unique style where his flow is kinda like scatman, adding "iggity" to the end of his words. They use a lot of similes, and their songs are mostly for fun and you can listen to this album with ease and just admire the flow and maybe, just maybe, that song Looseys is about pooping your pants.
#241 Album of 1992
Napalm Death – Utopia Banished

Napalm Death – Utopia Banished
Napalm Death has always been a Grindcore band I could tolerate, well Twist the Knife (Slowly) anyway. This was their first album though but it pretty much sounds like Napalm Death to me (as far as I've heard which is only their second album). Pretty solid if you can get into it. Most songs are under 3 minutes so it won't eat up too much of your time if you listen to it.
#271 Album of 1992
White Zombie – La Sexorcisto: Devil Music Vol. 1

White Zombie – La Sexorcisto – Devil Music Vol. 1
Before Rob Zombie took a ride in his Dragula he was taking a ride with his own band (I guess). While I always in my mind said that White Zombie was better than his solo albums (Rob Zombie) perhaps I just said it to be cool. There are good songs on this album to be sure. The tunes are groovy and chunky and it feels like a step away from stoner metal. However, a lot of the album tracks aren't really that interesting. A song like Thrust! is interesting but only because it uses the same riff as Thunder Kiss '65. A fun album for nostalgia purposes but beyond the first 4 songs kind of meh.
#279 Album of 1992
Mekong Delta – Kaleidoscope
For the longest time I thought this was a hip-hop group because who is Erich Zann right? Must be a rapper! I mean there is a rapper who goes by the name of Saigon so why not a rapper that goes by the name of Mekong Delta? Well, they aren't rap. They are a progressive / thrash metal band from Germany. The name, supposedly, was to mask the fact they were German. But I feel that as time goes on maybe it was a regrettable decision. However, from what I understand the band's lineup was never static other than the bass player and founding member, Ralph Hubert. In any case these guys are pretty rad. They shred and also have a pretty sweet cover of Dance on a Volcano. I feel that nearing 300 on the list this definitely deserves to be moved up on the list.
#293 Album of 1992
Amorphis – The Karelian Isthmus

Amorphis – The Karelian Isthmus
I was only really familiar with Amorphis past the year 2000 and this album is their first one so no clean vocals, if that was something you were used to. The band is a melodeath band. Production actually sounds quite clean. It's a solid album nothing outstanding but seems to still retain the core sound they have today just the music isn't as elaborate as it is now
#304 Album of 1992
King's X – King's X
King's X is pretty cool band and someone underrated from what I'd say. This is a fantastic album and criminally low on this list. Personally I'm a big fan when a band has a black front man because unfortunately you don't see if often. Doug Pinnick has got such a great soulful voice it's a great compliment to the groovy tunes. I don't really have much more to say about the album except that you should probably listen to it. Move it up!
#314 Album of 1992
Black Sabbath – Dehumanizer
Post Ozzy Black Sabbath can sometimes be a mixed bag. However, when it's with Dio it's usually pretty solid. Dehumanizer came more than 10 years after Dio's last appearance for them, Mob Rules, in 1981. It's not quite as good as those albums but like I said, pretty solid and certainly better than the Glenn Hughes / Ian Gillian / etc albums.
#331 Album of 1992
Sodom – Tapping the Vein
Sodom is another German band. This is more thrash than anything. I have never really listened to this band but from what I understand their best stuff came in the '80s. Having only heard this album, however, I cannot be disappointed. It's a fine album, nothing groundbreaking or anything but there are some fun songs on here, like Bullet in the Head. Wachturm is worth a chuckle or two as well. Also, the singer (Tom Angelripper) sounds very German. I guess this band is what Slayer would sound like if they had war related lyrics. As silly as the songs are I enjoyed this album a lot more than I thought I would.
#335 Album of 1992
U.G.K. – Too Hard to Swallow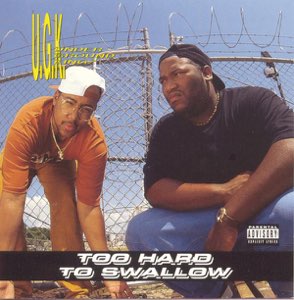 UGK AKA, The Underground Kingz, are a southern hip-hop duo. Unlike the New York duos these guys are all about chilling out, doing / selling drugs and having sex and such. This was their debut album, the first of what would influence a lot of other artists down the road. I'm generally not a fan of raps these slow since it's a close cousin of chopped n screwed but it's alright. In any case the songs are actually pretty fun, they are a slow burn it takes a long time to get to guts of the story but the payoff is good once you get there.
#365 Album of 1992
Nocturnus – Thresholds
I've always kinda sorta liked this band just because I like the idea of space metal. However, in practice they aren't quite spacey enough for me. I'd say by the time Aquatica rolls around the songs start to get cool. Otherwise the album doesn't do much for me.
#375 Album of 1992
Madonna – Erotica
Madonna has made some hits over the years. This album doesn't include many of them. If you look at the cover art you probably could figure this was a throwaway album. The majority of songs are pretty dull, perhaps trying to cash in on the R&B sounds from the '90s but it just doesn't work here. The big hit I would say is probably Rain but I don't recognize anything else on here as being a song Madonna is remembered for (maybe the song about performing oral sex on her? Where Life Begins) Worst of all the album is 75 minutes long. Yikes! 375 is almost at 400 so perhaps this is a good place for the album, or maybe lower.
#412 Album of 1992
Suicidal Tendencies – The Art of Rebellion

Suicidal Tendencies – The Art of Rebellion
I always thought these guys were a fairly popular band so surprising to see them so low. This is a pretty good album with probably one of their biggest hits, Nobody Hears. The music is hard to describe, like the neighbor of punk. You know that kind of punk that doesn't quite sound punk? I'd say musically I enjoy it, something that is an acquired taste (putting it nicely) is the Mike Muir's (the vocalist) voice. I dunno it just sounds kinda wheezy and it's ok when he screams but if he tries to sing it doesn't sound great. Otherwise a great album that probably should be moved up.
#419 Album of 1992
Prince & The New Power Generation – Love Symbol Album

Prince & The New Power Generation – Love Symbol Album
You can usually expect Prince to bring some funky songs and some slow songs and that's what this album is. It's full of great singles like Sexy MF and My Name is Prince but also has some solid album tracks like I Wanna Melt with U and The Continental. What I'm saying is 419 is way too low for this album. This is on the upper tier of Prince albums.
#438 Album of 1992
My Dying Bride – As the Flower Withers

My Dying Bride – As the Flowers Withers
My Dying Bride is a somewhat hit or miss doom metal band for me. Sometimes I enjoy what they are laying down, they certainly have some iconic songs, and sometimes they are just kinda boring. This is their first album and you can hear some of what they would become in the songs. The most striking thing is the harsh vocals throughout, something they would ease up in the later albums. This actually reminds me a lot of the grindcore albums that were earlier on this list. A mix of slow songs followed by really fast grindy songs and death vocals. Overall it sounds kind of like a dress rehearsal of better albums down the road.
#441 Album of 1992
Cannibal Corpse – Tomb of the Mutilated

Cannibal Corpse – Tomb of the Mutilated
I enjoyed Cannibal Corpse when I was in high school but looking back perhaps I enjoyed the novelty of the band and the silly song names more than the music. This album features classic songs like Hammer Smashed Face (Also featured in the motion picture Ace Ventura: Pet Detective) and fan favorite, I Cum Blood. That being said I do somewhat enjoy the album. I like the groovy death metal style more than the endless blast beats style (aka something resembling a rhythm) so if you can get into the groove perhaps you can enjoy Cannibal Corpse as well!
#541 Album of 1992
Edge of Sanity – Unorthodox
Edge of Sanity were one of the pioneers of the Death / Progressive Metal / Rock sound and Dan Swanö also considered a legendary vocalist / guitarist / producer. This album is pretty good I don't think it has a many of their iconic songs but it is pretty solid front to back. Definitely a hidden gem on this list.
#553 Album of 1992
Iron Maiden – Fear of the Dark

Iron Maiden – Fear of the Dark
I'm a pretty big Iron Maiden fan but I can admit that they've had some stinkers. Unfortunately the '90s were filled with Iron Maiden stinkers. In fact after this album Bruce Dickinson released a series of solo albums which were much better than Iron Maiden's output at this time which seemed to be a good thing because when he returned they started making good music again.

Fear of the Dark is a somewhat mediocre album. The title track is clearly the highlight and played during many of their live shows. However, the rest is simply not good at all which is why you DON'T hear those songs during many of their live shows. In fact Dickinson's vocals, that are usually pretty good, sound a bit strained on this album. Maybe he just wasn't feeling it and maybe the same for the rest of the band. A lot of uninspired songs. But there are a couple of stand outs other than Fear of the Dark. Be Quick or Be Dead and From Here to Eternity are ok. Afraid to Shoot Strangers and Childhood's End are good the rest are not so good and Weekend Warrior is just bad. As far as ranking this 553, it's fine I suppose. Rankings are mostly irrelevant by this point.
#600 Album of 1992
Body Count – Body Count
When I originally heard Body Count a long time ago I didn't like the band. I was disappointed because I assumed because Ice T was in the band that they were a rap band but they're actually a rock band. Revisiting this album today I quite enjoy it and the timing couldn't be perfect. The album is hilarious but the music is also pretty good too. There are silly songs although they do carry some truth to them. There are also some legitimate heartfelt songs like The Winner Loses. I think knowing who Ice T is today you can really see the amount of fun they had performing these songs and can't help smile along with them.

Did I say rankings are mostly irrelevant by this point? I meant for bad albums. If you're a good album you'll get some kudos to move up the list!
#626 Album of 1992
Mary J. Blige – What' the 411?

Mary J. Blige – What's the 411?
Mary J. Blige is one of those very talented singers who's music is rather hit and miss for me. On this album, her first, she showcases great vocals and it features some very smooth R&B / Soul tunes. The thing that keeps me from coming back personally is that there's no hook. You look at other R&B artists around the same time (Whitney Houston, Toni Braxton, and others) and they had something infectious to hook you into the music, to keep you coming back. I mean that's my issue. Perhaps you super like her and all you need to do is hear her voice.

Also, on another note, this album features a minor pet peeve of mine where the opening track is talking about how great the forthcoming album is. A minor issue but it's like a nearly 4 minute track of a bunch of artists talking on an answering machine. This isn't a bad album, its alright, but another "in the mood" type of album to listen to.
Final Thoughts / Conclusion
This has been an interesting trip down memory lane. I've discovered some music I may not have listened to otherwise and maybe discovered that some things were just a product of the time or that I've possibly grown out of. One thing is for sure, regardless of rank, there was a lot of great music released in 1992.
---
Top Albums of 1992: [Part 4]